Last weekend, I joined the photographers team for the OxJamBrum Takeover festival. I'd found out about the event on the excellent Created in Birmingham site, and put my name down.
The day itself was tremendous; I got to see some excellent music, took a few photos. Most importantly, the team raised their target of £10k.
I was covering three very different venues – the Cafe Bar at Symphony Hall, the canalboat "Frederick" (a bit of a squeeze for a six-piece band) and finished off at the Yardbird.
And I'm chuffed to bits that OxjamBrum have picked one of my photos as their Facebook title image.
… and even more chuffed that it two of them turned up on the event's gallery on the Birmingham Post and Mail site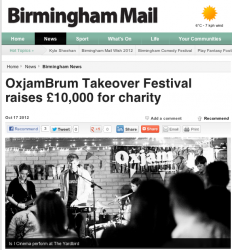 Click on a thumbnail for a larger image