click for the story ...

I managed a couple of days of the Mostly Jazz Festival (or as it now is, the Mostly Jazz, Funk & Soul Festival). A couple of days in the sunshine, listening to some Jazz and catching acts like the Fun Lovin' Criminals and Mavis Staples ...

I wasn't covering this for anyone, so I can write a few comments on  a few of the bands this time. I wasn't taking note, though, so these are written from memory.

The weather was tremendous, and Saturday was Craig Charles' 50th birthday. So he was enjoying himself...
Gallery Index :
Mavis Staples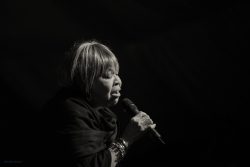 Fun Lovin Criminals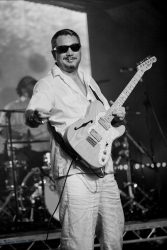 Ibibio Sound Machine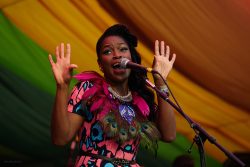 Hannah Williams and the Tastemakers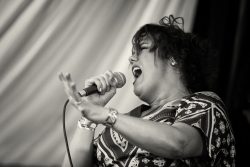 King Khan and the Shrines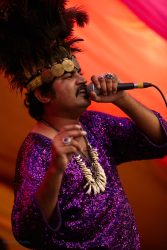 Kraak and Smaak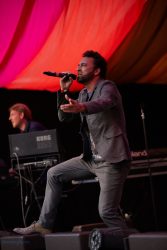 Alexia Coley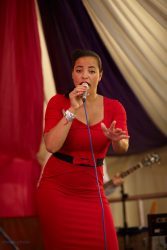 Albare plays Gibson guitar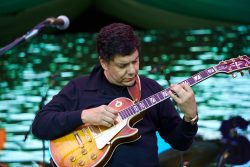 Sons of Kemet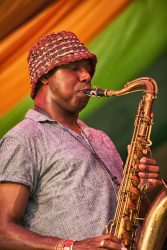 Radio Riddler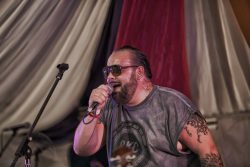 Myron + E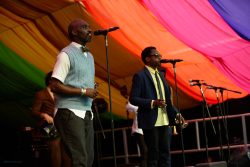 Jay Prince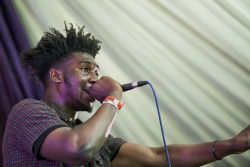 The Peaky Blinders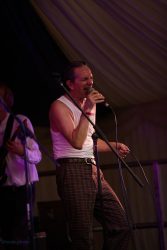 Lucinda Belle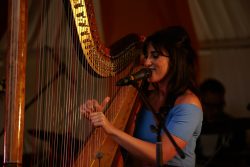 Lack of Afro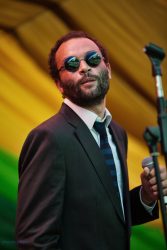 Cody ChesnuTT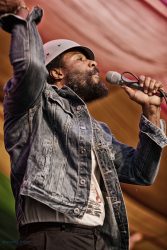 The Soul Jazz Orchestra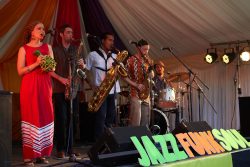 Omar Souleyman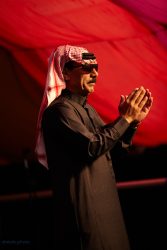 Mavis Staples
A true R&B legend, Mavis still has a great voice, and turned out the old Staples Singers hits including originals "Respect Yourself", "If You're Ready (Come Go with me)" and "Heavy Makes You Happy", together with covers of Buffalo Springfield's "For What It's Worth" and Talking Head's "Slippery People".The band - Rick Holmstrom (guitar) and Stephen Hodges (drums) took on a couple of instrumentals - with bassist Jeff Turmes taking the lead, on a bottleneck version of "Swing Low Sweet Chariot" - before the singers returned for the last few songs.And this was worth it, with an powerful ensemble version of "The Weight" and the uplifting "I'll Take You There". Mavis' backing singers included her sister Yvonne, Donny Gerrard and Vicki "Squeaky" Randle ("she sings the squeaky parts").
Fun Lovin Criminals
I wasn't going to miss this one.FLC warmed up with some of their laid-back tracks (including "King of New York" and "Loco") before erupting the crowd with "Scooby Snacks".The beauty of FLC is the contrast between the chilled Huey Morgan, and the rock-solid groove from of drummer Frank Benbini and Brian "Fast" Leiser (who plays the trumpet parts live).So .. easing back again with "Smoke 'Em", we were also given "Korean Bodega", "Up On The Hill" and "Love Unlimited".There was something left for the encore, though. Ummm ... they don't seem to have played "The Fun Lovin' Criminal" yet ...
Sons of Kemet
It's quite a strange lineup : tenor sax, tuba (providing the bass lines) and two drummers. You know this is definitely at the "Jazz" end of the spectrum here.It's not instantly accessible - Oren Marshall's tuba bass lines are (superficially) basic, while Shabaka Hutchings' sax lines float over the top. Then the arrangements start to converge, the tuba becomes hypnotic, and the drums shift the rhythms around. There's a strong north African influence here.And by the end of the set, you find your brain has attuned to these complex, structured compositions .
Radio Riddler
| | |
| --- | --- |
| | A side project by Frank and 'Fast' Brian of Fun Lovin' Criminals, Radio Riddler specialises in reggae covers - notably, of Prince songs. It's fun, but clearly done with love and care, not just as pastiche. It works. |
Lucinda Belle
Lucinda Belle's songs are well-crafted, presented in a style redolent of the 1930s albeit with contemporary subject matter. Craig Charles had promised us "funky harp" but - really - that was't going to happen.